Eviction Moratorium Extensions & Bye SFR Zoning
https://cdn.lbryplayer.xyz/content/claims/eviction-moratorium-extensions-bye-sfr/8c314cf60737a3bfe29ccd03a9f057c5915c5a7d/stream.mp4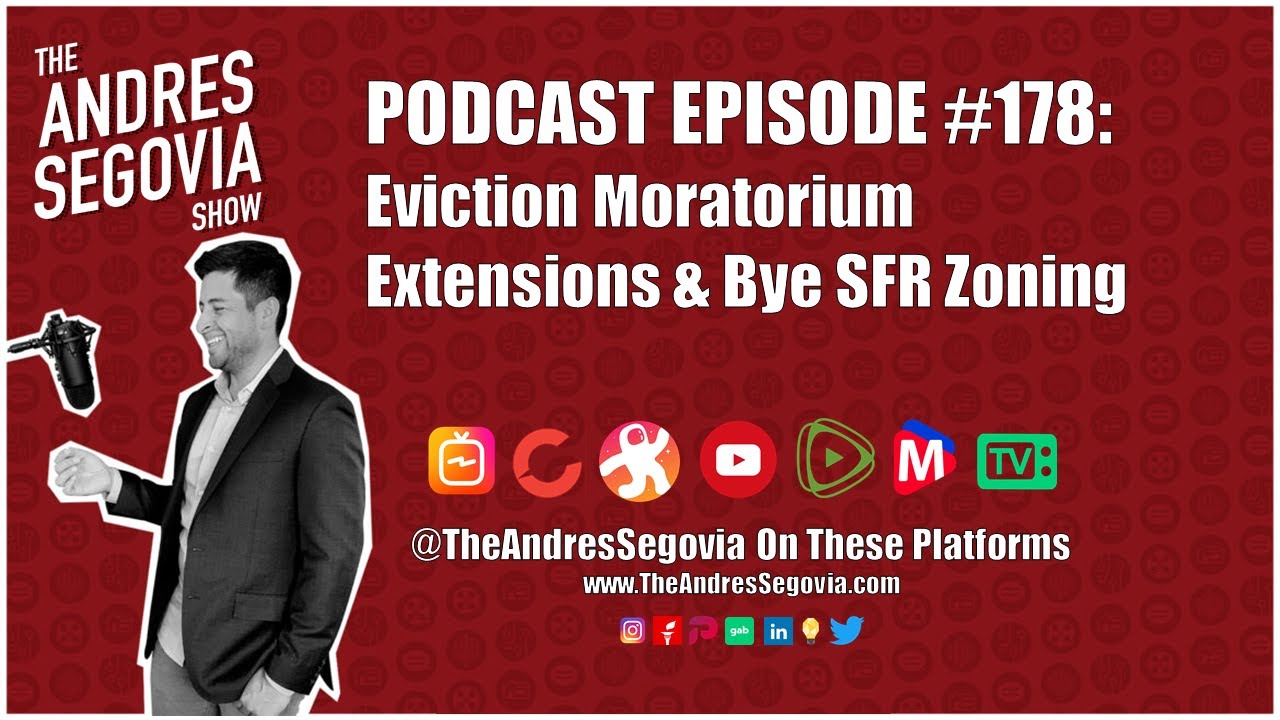 #TheAndresSegovia #EvictionMoratorium #HousingCrisis
Los Angeles County mulls extending extending the eviction moratorium to January 2022, U.S. Senators want to grant CDC the power over private property usage, and California governor Gavin Newsom eliminates Single Family Home zoning.
Go to www.TheAndresSegovia.com for more information and show notes.
Go to www.SegoviaRES.com for real estate resources.
*****
Like. Share. Follow. Subscribe!
Follow Me Across The Socials:
Tech Enthusiast. REALTOR® But Coffee First.
Instagram/Gab/LinkedIn/Minds/Parler: @TheAndresSegovia
GETTR/Twitter: @_AndresSegovia
@TheAndresSegovia Also On These Platforms:
BitChute/Gab TV/Odysee/Rumble/YouMaker
Listen On These Stations:
Apple Podcasts: http://apple.co/2GrOwk9
CastBox: http://bit.ly/2wwPiaS
Google Podcasts: http://bit.ly/3sBKMTK
IHeartRadio: https://ihr.fm/2J576Qk
Spotify: https://spoti.fi/2Ja1pk4
Spreaker: http://bit.ly/2ZOvA7b
Stitcher: http://bit.ly/2Ww9FV8
TuneIn: http://tun.in/pjoXc
Deezer: http://bit.ly/2KHhgbC
BluBrry: http://bit.ly/2s60MTX
PodBean: http://bit.ly/336EqOT
RadioLine: http://bit.ly/2OAhB0K
Podcast Addict: http://bit.ly/34l8xU0
Podchaser: http://bit.ly/2RcI0El
Listen Notes: https://lnns.co/eLtIKfWm8zh
Pandora: https://pandora.app.link/QDMJKgGjY3
JioSaavn: https://bit.ly/3bxs7PO
RadioPublic: https://bit.ly/2E5ElEL
Overcast: https://bit.ly/3kO3V1s
Pocket Casts: https://pca.st/7y631k8r
Amazon Music: https://amzn.to/35KucbX
SoundCloud: http://bit.ly/2Nvou6P
PlayerFM: http://bit.ly/2Y8ACfU
Vurbl: http://bit.ly/3qVI9LC
Podcast Republic: http://bit.ly/38ppBwo
AntennaPod: http://bit.ly/38pukyc
Breaker: https://bit.ly/3eZcVyz
Audible: https://adbl.co/2T2cBYy
Samsung Podcasts: https://sfree.page.link/default
…