My Talk Show Radio Audition DEMO!
https://cdn.lbryplayer.xyz/content/claims/my-talk-show-radio-audition-demo!/51ea37b4f9d8707ea2182a77a467ed307ef56d37/stream.mp4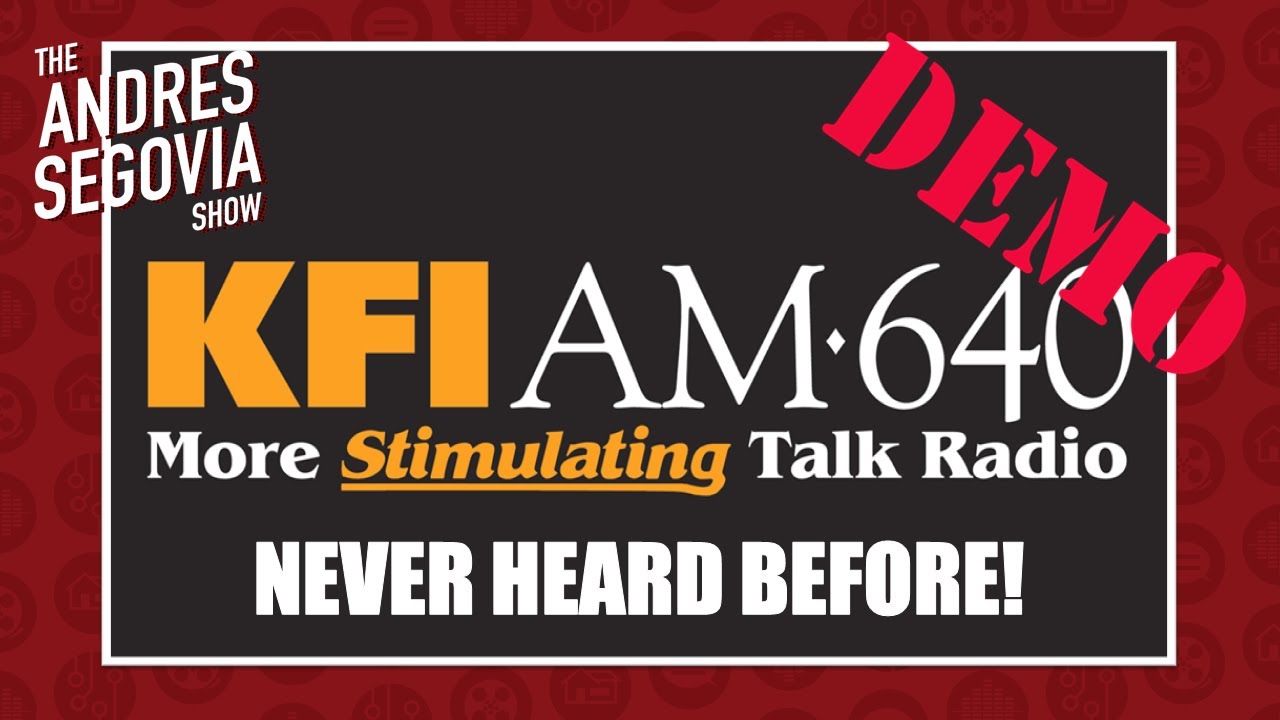 #TheAndresSegovia #KFI640 #Audition
Here's the full-hour radio demo I did back in 2007 in preparation for Talk Radio! My local station at the time was KFI 640AM in Los Angeles. While I didn't get to appear on radio, I found my home through podcasts.
Man, I've come a long way =P
DISCLAIMER: This is a radio demo complied by me for promotional purposes only.
SEGMENTS
0:00 Top Of The Hour News
3:30 Ad Break 1
4:30 Local News & Traffic 1
5:10 Monologue
17:00 Ad Break 2
21:45 Show Segment 2
29:59 News Break
31:55 Ad Break 3
34:00 Show Segment 3
45:15 Ad Break 4
49:20 Show Segment 4
54:15 Ad Break 5
57:20 Show Segment 5
Go to www.TheAndresSegovia.com for more information and show notes.
Go to www.SegoviaRES.com for real estate resources.
*****
Like. Share. Follow. Subscribe!
Follow Me Across The Socials:
Gab: https://gab.com/TheAndresSegovia
Instagram: https://www.instagram.com/theandressegovia
LinkedIn: https://www.linkedin.com/in/theandressegovia/
Minds: https://www.minds.com/theandressegovia/
Parler: https://parler.com/profile/AndresSegovia/posts
Twitter: https://twitter.com/_AndresSegovia/
@TheAndresSegovia is Available On These Platforms:
Odysee
Rumble
YouMaker
BitChute
Gab TV
Listen On These Stations:
Apple Podcasts: http://apple.co/2GrOwk9
CastBox: http://bit.ly/2wwPiaS
Google Podcasts: http://bit.ly/3sBKMTK
IHeartRadio: https://ihr.fm/2J576Qk
Spotify: https://spoti.fi/2Ja1pk4
Spreaker: http://bit.ly/2ZOvA7b
Stitcher: http://bit.ly/2Ww9FV8
TuneIn: http://tun.in/pjoXc
Deezer: http://bit.ly/2KHhgbC
BluBrry: http://bit.ly/2s60MTX
PodBean: http://bit.ly/336EqOT
RadioLine: http://bit.ly/2OAhB0K
Podcast Addict: http://bit.ly/34l8xU0
Podchaser: http://bit.ly/2RcI0El
Listen Notes: https://lnns.co/eLtIKfWm8zh
Pandora: https://pandora.app.link/QDMJKgGjY3
JioSaavn: https://bit.ly/3bxs7PO
RadioPublic: https://bit.ly/2E5ElEL
Overcast: https://bit.ly/3kO3V1s
Pocket Casts: https://pca.st/7y631k8r
Amazon Music: https://amzn.to/35KucbX
SoundCloud: http://bit.ly/2Nvou6P
PlayerFM: http://bit.ly/2Y8ACfU
Vurbl: http://bit.ly/3qVI9LC
Podcast Republic: http://bit.ly/38ppBwo
AntennaPod: http://bit.ly/38pukyc
Breaker: https://bit.ly/3eZcVyz
…